Simple pricing
We have made advertising easy with our simple and flexible pricing model. Just choose the right period and category for your ad and continue to registration!
?
Diamond is our most exclusive advertisement category. Your ad will always be on top of the page and among the first ones visitors will see. Choosing Diamond category will get you most of the clicks and attention!
Diamond
2490 czk
* Exclusive ad. space
* Most profile views
* Best location
* Blog publication
Get started now
Popular choice
?
VIP category will make your advertisement really stand out. Your ad will be posted before all the regular ads and it will give you priority status in the eyes of our visitors.
VIP
1490 czk
* Located in the upper ads section
* A great way to stand out
* Gets 3x more views than regular ads
Get started now
?
Advertising in regular category will make you visible to thousands of fun looking visitors a day.
Regular
0 czk
* Post your ad for free
* Increases your visibility
Get started now
Banners
In addition to our paid advertisements, we can offer you a more exclusive way to advertise your business or services on our website. Currently, you can choose from two banner options – a 'header' banner, and banner 'between advertisements'.
Header banner
Our header banner is the most exclusive way to advertise your business on the SecretGirl Prague website. With your advertisement located on top of the page, it will get the most 'clicks' and generate many more inquiries. By choosing this option you will immediately get results from our specifically targeted traffic.
Price: 11,490 CZK per month. To place an order please contact us – info@secretgirlprague.com
Example placement: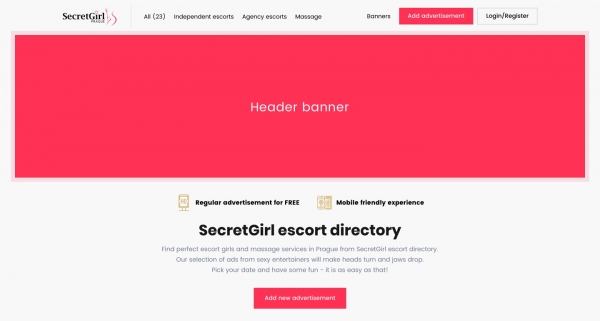 Banner between ads
Banners placed between our VIP and Regular advertisements will catch the eye of a visitor browsing the website and noticeably increase your business. It is a highly effective way to compliment your regular advertisements and generate many more inquiries for your services. In addition to seeing your banner being placed between regular advertisements, your banner will be displayed when visitors to the site are browsing ads in profile view mode.
Price: 6490 CZK per month. To place an order please contact us – info@secretgirlprague.com
Example placement: